December Good Friday
So why do some things I've done get reported here for the world to see and others lurk in obscurity? Well, apart from some things maybe being more interesting than others when I have neither the time nor the inclination to write up everything, there's usually some kind of extra stimulus to prompt me into action. For the 2006 American Trip, this was my belated introduction to 'alpine' climbing and, for my ascent of The Pause, a climb of great symbolic significance to me. For Good Friday Climb on Ben Nevis, which I climbed with Matt Watts on 29 December 2008, it was simply the availability of photographs (for which I thank Matt and Ryan Slater) that yelled 'web page' at me!
Now, Good Friday Climb is a classic Grade III snow and ice route set high on Ben Nevis, skirting the side of Indicator Wall to finish close to the summit, and first ascended in April 1939 by the great Graham MacPhee and party. While not a long route at all by Nevis standards, it's still a good 150m (three full rope lengths) from bottom to top, a reliable option when lower routes are stripped bare (see Ryan's photo), and was famously descended on skis by Jean-Franck Charlet for a BBC outside broadcast (don't think they got any climbing footage, but I remember watching this in disbelief) in the early 1980s!
To reach the initial gully, it's normal to traverse leftwards below Indicator Wall on what appears to vary between an 'easy terrace' (SMC Scottish Winter Climbs, 2008) and the bullet-hard steep snow slope we soloed, but it's always an exposed approach with Observatory Buttress lurking below, and some apparently prefer to climb more directly to the foot of the gully to eliminate the traverse. From here you simply climb the gully and traverse right to a steeper, icy scoop (see Matt's photo, taken from the stance he's occupying in Ryan's) before emerging onto easier snow and breaking through to the plateau via another short gully high above. So I arrived at the start first, with harness and helmet on but rope and rack still firmly stashed in my sack (and, yes, I should know better!), consequently found securing myself and building a belay harder than necessary, and carelessly consigned a brand-new Grivel ice screw to oblivion down the snow slope and lurking buttress below! But after that it was pleasant, straightforward climbing to two apparently sound in-situ pegs (with backup nut 'just in case') near the gully top (and absolute limit of my 50m ropes), by which time I was being passed by two soloists and Matt had been joined below by the following pair of Jamie Bankhead and Lindsay Potter, who gratefully snaffled the rock belay we'd largely ignored.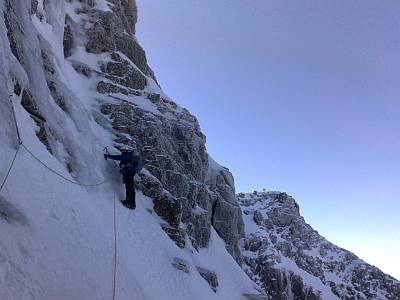 While Matt and I had originally planned to alternate leads, I found myself leading again on the second (crux) pitch, managed to compound the loss of the screw by launching an almost new Mountain Equipment Hard Ice glove (half price from Joe Brown's and comfortably warm when worn, but too clumsy for fiddling with some gear) from above the steepest part, and had to construct a snow-and-ice belay (deadman and two screws, with the one in 'proper' ice tied-off) when the ropes ran out again (basically where you see me in Ryan's photo) and I failed to convince myself that traversing left to the rocks would be any better. Naturally this suited Jamie, who arrived just after Matt and promptly belayed to said rocks!
Since Matt's ends of the ropes had fetched up (after rearranging to keep out of Jamie's way) on the bottom and mine on the top, I suggested I led on a little further to set up a belay for him to lead through to the plateau in one go, but he countered with 'why don't you just finish it?', and (without really meaning to) that's pretty well what I did. So I continued through the upper gully (which was icy enough to take a screw in its bed) to belay to the little rock buttress splitting the summit snow slope, enjoying the climbing (always entertaining and never hard), but leaving a ghoulish trail of blood from my ungloved right hand (had spare mitts in my sack, but wasn't cold enough to need them until we hit the plateau) for the others to follow! (NB The comfy, but clumsy, Hard Ice gloves were replaced the following day with a sensible pair of Marmot Amphibians that are nimble enough to stay on at all times.) And that's about it, apart from the fabulous Ben Nevis sunset, starry sky and merest sliver of a moon that graced our descent by an icy pony track (didn't fancy a rock-hard Number Four Gully in the dark!), and all I really need to tell you before uploading the page I only made to showcase the photographs...
But perhaps Good Friday Climb deserves the final words? And it's a great little climb for any day, not just Good Friday. Even a December Monday, but (like most things) all the better for good company along the way!
Feedback to webmaster@petestack.com