West Highland Week 2001
'Probably one of the wettest regattas ever.'
(Andi Robertson, Yachting Life, September 2001)
So it was wet, but it provided some of the best racing I can remember. Sadly, it will also be remembered for David Lambe's heart attack and death aboard Liaison off Tobermory.
Some interesting changes afoot, with Craobh replacing Crinan for the start of the week and the trip to Tobermory postponed to keep the final passage race for the last day. Some cunning planning had provided us with a mother ship (Tomy), an Oban mooring and a shore base (all courtesy of Twig Olsen, who'd also been signed up to crew for Round Lismore and the two round-the-buoys races). With our new-style campaign further boosted by the new Pentex main, head-turning new kite and Gill's splendid new 'Lords of the Fly' battle flag and stickers, everything looked set for some real fun. So could we live up to it all, or were we destined to finish the week as the regatta's most conspicuous plonkers? Read on to find out...
Oban to Craobh Feeder, Saturday 28 July
Crew — Peter, Keith, Gill, Sandy, Al.
Forty-one entries, thirty-five starters, twenty-five finishers and our best ever start to the week! A desperate drift down the Sound of Kerrera and beyond led to a number of retirements, but some breeze filled in eventually to provide a pleasant beat to a shortened finish at Ard Luing. So Melges 24 Clapped Out Toy Boy picked it up early to sail off to a stylish win, but Fly found herself keeping some pretty fast company, making use of the much higher-rated Bragar (First 33.7) and Sunrise on Sunart (Jeanneau Sunrise) to show us which tidal eddies to take (and avoid!) through the Sound of Luing and record a thoroughly satisfying fourth on handicap.
Craobh to Oban Passage Race, Sunday 29 July
Crew — Peter, Keith, Gill, Sandy, Al.
Here's the Class 5 cast list, comprising 21 entries (20 for the series) out of an impressive (near record) 195 total and including many old friends: Impalas Fast Buck, Wise-Crack and Fly, J24 Joker, Hydro Rampart, Attalias Bright Eyes and Clyde Calypso, Gib'Sea 96 Revolver, Etap 28i Lady in Red, MG Spring Recoil, Manzanita Highpointer, Comfort 30 Northern Comfort, Hunter 27 OOD Rovicus Again, Bolero Baloo, Contessa 32s Circe, Impromptu and Tsarina — and Cynara for the first weekend — Rival 41C Matador, Moody 33 Aoife and Contessa 28 Carna.
The first race of the week proper turned out be a cracker, with a fresh beat to Ard Luing and a blustery fetch/close reach up the Sound of Luing freeing to a glorious run in some rare, burning sunshine. If Fast Buck threw down the gauntlet by leading from start to finish, Fly responded by almost catching her at Ard Luing before being impeded by a wandering Class 9 boat at the buoy and having to settle for a long chase all the way home. With Fast Buck's sails sometimes simply flogging in the gusts and Fly (carrying two fewer crew) clearly overpowered early on the fetch, we peeled briefly to the no.3 genoa, at which point we were passed by a more comfortable looking Northern Comfort on her way to an opening victory. Despite finishing a tidy third on the water and some minutes ahead of the chasing pack, we lost out to three Contessa 32s and a Moody 33 on handicap to place a slightly disappointing seventh.
Round Lismore, Monday 30 July
Crew — Peter, Keith, Gill, Sandy, Al, Twig.
A spinnaker start and processional run up the Lynn of Lorne saw Fly holding her own among the class leaders to the north end of the island. Trying to cheat the tide by taking the Lismore shore for the first few tacks of the beat turned out to be a mistake (probably our worst of the week), with Fast Buck and co. emerging from a long tack over to the Morvern shore with quite an advantage. Although things looked pretty grim for a while (had half our class slipped through unnoticed?), some hard work in the fresh conditions kept us in the hunt and fourth on the water all the way home from where the fleet converged at Bernera (surrendering just one further place on handicap to Contessa 32 Cynara).
Race won by Northern Comfort, with Rampart and Fast Buck taking second and third.
Round the Buoys off Oban, Tuesday 31 July
Crew — Peter, Keith, Gill, Sandy, Al, Twig.
Having taken the trouble to pencil the trapezoid course sequence onto both main bulkheads before the start, I suppose the 'light weather alternative' windward-leeward was almost inevitable! I really can't remember a lot about this race except that we had a very strong finish, overtaking Rampart on the final beat to take second on the water and frightening Fast Buck into some serious covering tacks as the breeze faded on the approach to the line. But the two minutes separating Fast Buck and Fly over the water translated to a five place difference on handicap as she took first to our sixth, with Revolver and Rampart pipping us by nine and five seconds respectively for fourth and fifth.
Oban to Tobermory Passage Race, Wednesday 1 August
Crew — Peter, Keith, Gill, Sandy, Al, Jennie.
A stiff fetch to Lismore Light threatened to turn the established pecking order on its head as the previously docile big Rival Matador stormed into an early lead, but her moment of glory came to an abrupt end as the angles freed, kites were popped and she quickly fell back. My other clear memory of the first part of the race is Fred Mahood and Rampart heading for the second time in two years like lemmings for the Morvern shore ('don't do it, Fred... you've been there before!'), which cost them dear with the Mull side the place to be on the rising tide. Can't remember much about the middle of the race, but it all came to an exciting close with Revolver holding on to a well-judged long gybe up the right side to take the gun by a couple of minutes from an almost inseparable Fly, Northern Comfort and Bright Eyes coming through the middle, and — joy of joys! — fellow Impalas Fast Buck and Wise-Crack finally luffing each other up the side of the course to stay a safe distance behind.
Race won by Carna, with Fly second across the line and sixth on handicap.
Round the Buoys off Tobermory, Thursday 2 August
Crew — Peter, Keith, Gill, Sandy, Al, Twig.
Tricky racing in sometimes torrential rain, with the windward-leeward course turned inside-out halfway through and the shortest 'run' in history snatched from us at the amazing sight of a forest of spinnakers swanning up the 'windward' leg we'd just completed! Other than that, our day was most memorable for a cracking, race-long, tack-for-tack duel with Fast Buck, and a finish in the dying breeze which led to huge gaps opening up among the boats behind us.
Race won by Revolver, with Fast Buck second (bah!) and Fly third both across the line and on handicap. So we couldn't repeat our 2000 Oban–Tob win for Keith's birthday, but it was still our best result of the week.
Tobermory to Oban Passage Race, Friday 3 August
Crew — Peter, Keith, Gill, Sandy, Al, Jennie.
A lack of wind at Tobermory led to the start being moved to the south of Calve Island, but a short line in quite an awkward little corner caused some problems with obstruction by boats from later starts. Hitting the line exactly where we wanted to be (port end and clear air) but about a second early, we lost little time in spinning round the buoy and had soon worked our way into the lead on the lightish beat. Some spice was added to the proceedings when Fast Buck, who we'd probably taken over with us, was spotted heading back very late but still turned out to be OCS after apparently failing to fully re-cross the line! By Salen the wind had almost died but, having painstakingly stretched our precious lead by putting the boat in most of the right places, the possibility of holding out for a win had crossed our minds. Time for an act of God, as the breeze rebuilt from behind, kites appeared, the boats we'd thought we'd buried came flying back on the new breeze and we found ourselves locked in a battle royal with Rampart to beat her to the shortened finish at Loch Aline by a mere second!
Race won by Carna, with Fly first across the line but a discarded tenth on handicap (and a mere thirty-six seconds between sixth and tenth places). So you win some, you lose some, but it all ended well with a cracking post-finish run in company and a true party mood! Northern Comfort took the class overall, with Fast Buck second and Fly a hard-fought fifth (Revolver and Carna being the others who finished above us). Having sailed consistently well, beaten Rampart (sixth) overall for the first time but twice lost several places by a matter of seconds, I think we can take considerable pride in our week's work and look forward to 2002 with optimism.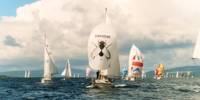 Feedback to sailing@petestack.com