West Highland Way Race, 23 June 2007
How, when and why the notion of entering the 2007 West Highland Way Race seeped into my consciousness, I can't quite recall, but it was certainly before the 2006 version even took off. I'd become aware of that race early enough to know that entries were fully subscribed but late enough to know that I'd not have had enough time left anyway to start training for something so arduous. So perhaps I was looking for another challenge to follow my Tranter's and Glen Coe rounds, perhaps I'd just convinced myself that I might suit off-road ultras because 'I'm not fast but don't have to be for that' (a supposition since proved false by discovering from Tim Noakes's Lore of Running that the faster the athlete at short distances, the greater his or her potential in the marathon and ultimately in the ultramarathon) or perhaps I was simply mad (read on and decide!) but, whatever my exact motivation, the die was already cast a good year in advance...
Training and Injury Scares
While I read and consulted as widely as possible about ultramarathon training, the more I researched the more it became apparent that the appropriate training volume and intensity is necessarily a very personal thing. So I listened to friendly suggestions ranging from 40 to 100 miles per week, bought and devoured (amongst other books) Ultramarathon Man by Dean Karnazes, Running Through the Wall [edited] by Neal Jamison, Why We Run by Bernd Heinrich and Tim Noakes's classic doorstep of a reference cited above, but ultimately just ended up doing as much as I could stand while neither impacting excessively on my job nor physically falling apart. Which, in my case, culminated in a sustained average of 55 miles per week (mixed hill, trail and road running with next to no racing) through March, April and May followed by a progressive taper down over the three weeks immediately preceding the race.
While living in Kinlochleven not surprisingly means that I already run northern parts of the West Highland Way on a regular basis, many of my longer training runs were targeted at increasing my familiarity with the route as a whole. So I covered the whole thing in both directions with a series of 20–40 mile out-and-back forays including a 'double Lairig Mor' (Kinlochleven–Fort William, 10 February), Kinlochleven–Blackrock Cottage (25 February), Blackrock Cottage–Bridge of Orchy (4 March), Bridge of Orchy–Crianlarich (24 March, when I met fellow entrant Nom Cabrelli heading in the opposite direction), Crianlarich–Inversnaid (31 March, when I met fellow entrant Eric Baird heading in the opposite direction), Balmaha–Inversnaid (7 April) and Balmaha–Milngavie (10 April), progressed to the daddy of them all with my 58½ mile 'quadruple Lairig Mor' (Fort William–Kinlochleven etc, 5 May) and another round trip from Glencoe Ski Centre–Bridge of Orchy (12 May) before joining John Kynaston's (one-way) group runs from Bridge of Orchy–Fort William (19 May) and (night time) Milngavie–Balmaha (2 June).
Now, to return to my reference above to [not] 'physically falling apart', my two most serious injury scares saw me being referred to Fort William's Belford Hospital for X-ray after February's double Lairig Mor with some briefly incapacitating but never diagnosed front left ankle (tendon?) problem and finishing May's Bridge of Orchy–Fort William group run with sharp lateral (outside) left knee pain both joining my usual catalogue of periodic patella aches and reducing me to a pronounced limp. But (despite an informal diagnosis for the latter of probable ITB friction syndrome from Race Doctor Chris Ellis when our running/cycling paths crossed a few days later) I was able to stick more-or-less to my planned training volume by carefully juggling my intended mileage with the need to back off from time to time.
Support Team Planning, LAC Involvement, HRM Pacing and Race Schedules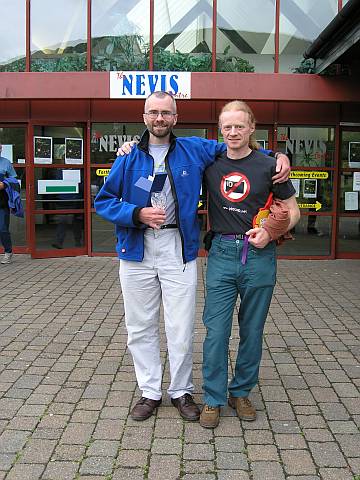 No organised race I'm aware of as arduous as the West Highland Way is simply a case of solitary runners competing against one another, and this one is no exception in requiring good teamwork with the race rules requiring that you must have motorized back up consisting of at least two people, one of which must be capable to accompany you during the last two stages as required. Luckily I struck gold with an early offer of help from my brother Angus (a significant gesture when he lives in Seattle!) and immediate acceptance of my request for same to my Lochaber Athletic Club team-mate, good friend and first-choice support runner Jon Gay. So, while some runners had bigger support crews and we could have used more, arranging this proved no easier than raising six crew to race my yacht and I was simply grateful in the end to have secured a top-notch crew of two. While I was subsequently surprised to discover that clubmates George Cairns and Stephen Cant had later entered without me being aware of their plans or vice versa (stealing my thunder when I thought I was the only one!), it quickly struck me as a very positive thing for the club (and probably also the race) to have three locals taking part.
Although the race rules allow up to 35 hours to complete its 95 miles (153 km) of distance and 14,760 ft (4,499 m) of ascent, there's a widely acknowledged touchstone/yardstick of 24 hours for the more ambitious and an almost unbelievable record of 15:44:50 set in 2006 by Jez Bragg. So, boldly taking sub-24 as a starting point for my ambitions, I'd settled by the end of 2006 on a working figure of about 22 hours and admit to occasionally voicing the opinion that I could even go as fast as 20 if everything went perfectly! After three months of work with a heart rate monitor to slow myself down and establish a pace I could truly maintain for the long haul (finally coming good with May's near-perfectly paced quadruple Lairig Mor), I appeared to have a sound scientific basis for these guestimates. So our team meeting on 21 June saw Angus, Jon and myself plot four schedules for elapsed times of 20:30, 21:39, 22:48 and 23:57 (all starting with 4 hours to Balmaha and thereafter based respectively on maintaining that pace — with appropriate concessions to the rougher path north of Inversnaid and some known sustained climbs — or taking 7, 14 and 21% longer). To which I might add that, while most competitors would probably regard 4 hours over the 'easy' first section to Balmaha as slow (despite the assumed drop in subsequent pace) for any of those finishing times, some confidence in the strength of my hill-running background to keep me moving through the tougher later sections and utter conviction that the closest practical equation to the theoretical nirvana of even pace was my best race plan made me all the more determined to stick to that. With an eventual running time of 19:56 out of a race total of just under 22:16 and no stops before hitting Balmaha in 3:56, I might even admit to feeling pleasantly vindicated!
The Race
Since Angus copied me in on a lengthy email sent to some of his friends and gave me permission to reproduce its content here, I'm in the fortunate position of being able to present parallel accounts from both runner's and support crew's perspectives. So that's what you see below, with my account (composed some five to six days after the event) taking the regular text of the left-hand column and Angus's (hot from his laptop in its immediate aftermath) distinguishable by the italicised text on the right:
Peter's Story
95 miles is a long, long way, but meticulous training/preparation and an unshakeable conviction in my race plan meant that my biggest fear at the start was the distinct possibility of the race being stopped at some stage for the threatened severe weather. But conditions at the start were quite pleasant, it was good to meet organiser Dario Melaragni and catch up with some fellow competitors I'd run with before (Ian Beattie, John Kynaston and Joe Sheridan are those I recall seeing on the night) and I felt surprisingly calm (like 'what, is this really it?') as we set off.
Keeping to my planned heart rate of +/- 120 bpm, I let runner after runner slip past and off into the night, exchanging brief words with clubmates George and Stephen as they slowly pulled away and enjoying more sustained chats with Shirley Colquhoun and multiple-race veteran Alan Kay. Conditions continued to be pleasantly benign although the midges were certainly making their presence felt by the Beech Tree Inn at 7.5 miles (which I knew I'd reach ahead of schedule even at that heart rate) and I seem to recall one heavy shower somewhere along the disused railway following that first unofficial checkpoint.
While it was already light enough to run without the head torch by our second unofficial checkpoint at Drymen (reached in 2:18), I was persuaded to hang on to it till Balmaha 'just in case'. So on I ran without stopping, enjoying the relaxed pace but not thrilled by a puzzling diversion (regrettably unofficial, as it turns out!) through the Garadhban Forest. (Like most others, I prefer to know exactly where I am when I've 'learned' the route.) Hampered by running 'blind' along a seemingly endless narrower trail, muddier underfoot conditions than the normal wide track through this area and ever-increasing midge attacks, it was a relief when the return to known ground finally confirmed us to still be heading in the right direction! Can't recall exactly whose company I shared during this section, but think Mark Hamilton and Ellen Thomson were there.
With enough running kit in the car to cover most eventualities (four pairs of shoes, five pairs of socks, four pairs of shorts, two pairs of tracksters etc, etc.), a complete change of kit at Rowardennan prior to temporarily departing from support team reach up the north-east stretch of Loch Lomond had seemed like a sound plan. But somewhere on the way from Drymen to Balmaha, the sky simply burst, everybody got extremely wet and it became apparent that I'd need that complete change at Balmaha. That apart, I continued to consciously slow myself down, enjoying what was otherwise still an enjoyable run, determined to prove both my ability to stick to my 'four hours to Balmaha mantra' (so named by John Kynaston) and its value, and taking Conic Hill at a very easy pace to avoid getting there too soon. (Discussed this briefly with Phil Tipping on the descent because he suggested I was still ahead of schedule!)
After running into the Balmaha car park 3:56 out from Milngavie and being assured (along with many other competitors who hadn't twigged that it's no longer an official time point) that the lack of obvious marshals was intentional, I was able to enjoy that long-anticipated change into dry kit and a sit-down food stop before leaving again 12 minutes later. So of course there were midges but, with little unbitten skin left for them to chew, not much for them make worse!
While some continued hints of rain for a further few miles had me temporarily concerned about the possibility of the dry kit being wasted, it soon became apparent that things were brightening up and cooling down, with the threatened morning thunderstorms looking less and less likely. So I started to ease into a slightly higher gear, letting my heart rate rise into the high 120s, enjoying the freedom that brought me but always keeping my workrate in check by monitoring my breathing. (As a rule of thumb, I'm working too hard for the early stages of something like this if I can hear or feel my breathing.) With the weather looking ever more promising and some good crack to while away the miles (Phil and one or two others apparently being attached to me by invisible elastic as we kept running with or past each other), I was feeling ever more confident about the day and my plan.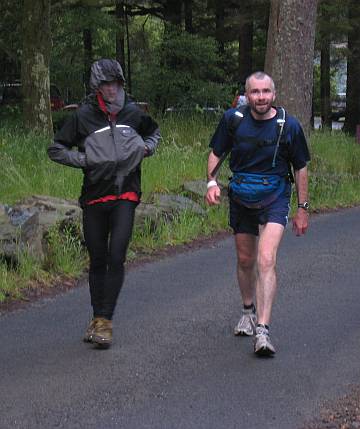 Arriving at Rowardennan for my scheduled breakfast stop with 5:41 elapsed and out again (after asking my crew to take back half the enormous bowl of porridge proffered to let the rest cool enough to eat through the midge net they trapped my head in!) in 5:54, I was starting to move quite quickly and soon lost contact with Phil on my way to Inversnaid (7:15 elapsed) and Beinglas (a further hour-and-a-half). According to plan, but still somewhat to my surprise, runner after runner kindly let me through on this narrowest section of the route (which, despite some awkward going, I've never found to be as rough as its reputation) and my repeated rejoinders ('thanks, but I'm not sure I'm wanting to go that much faster') probably came over with unintentionally facetious import as they kept quickly dropping behind. But this glorious spree finally came to an end with two runners whose offer to pass I initially declined up behind Cnap Mor, overtook just before Beinglas and saw run through again while Angus was attending to my feet at Derrydaroch. While I had no idea at the time who they were, I've since deduced from the race splits that they must have been Ben Rooney (who finished 15th) and David Gray (who apparently dropped out not so very much later) and can tell you that they were going well! :-)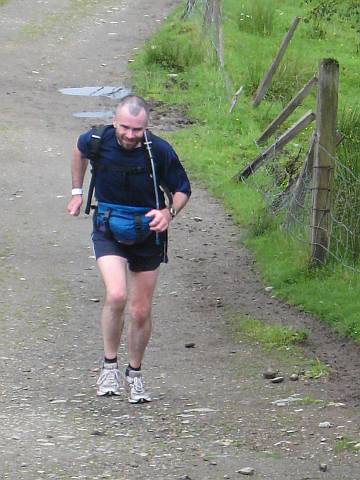 Now, I don't normally suffer from blisters at all when running with comfortable Asics road shoes and Inov-8 Mudsocs, but the soles of my feet had started to wear from about 45 miles on my quadruple Lairig Mor and proceeded to do the same from a similar distance here. So the Derrydaroch checkpoint (at 44 miles and 9:24 from the start) saw the start of an increasingly familiar routine where my shoes and socks came off to be filled with Baby Powder before refitting, but Angus was also cracking the whip after hearing that I'd moved into the top quarter of the field (apparently within an hour-and-a-half of the leaders at this stage) and I was out again within 8 minutes.
While I'd been doing my best to keep up with my crew's force-feeding, there's only so much you can swallow/digest and I elected to run straight through the new Auchtertyre checkpoint at 50.5 miles and 10:45 on the clock. So my bumbag was restocked with food I couldn't eat (handy for later!) and I simply couldn't take on much beyond fluid and a few jelly babies for a couple of hours, but the miles continued to fly by. Reaching Tyndrum after 11:18 under way, I received a major boost from passing clubmate Stephen Cant (admittedly on a scheduled stop) and I was out again ahead of him after a 6 minute stop of my own (suppose we must have had my shoes and socks off again, but don't remember). By somewhere round about Auch (approx. halfway between Tyndrum and Bridge of Orchy) I'd caught Mark Collins, but Stephen (now paced by his father Robert) was never that far behind and things were just about to take a turn for the worse.
While it was largely dehydration that got to me in the end, it was certainly exacerbated by lack of sleep (remember we're talking early Saturday afternoon, no sleep since Thursday night/Friday morning and over 55 miles already run) and the general feeling of queasy fatigue this brought to the mix. Now, overhydration is possibly even more dangerous than underhydration, but I knew that wasn't my problem from (how to put this politely?) peeing three shades darker than a good Islay whisky. So I polished off the remaining water (quite a lot!) from my Platypus and the dregs of my current bottle of Lucozade Sport, then sat down on a big boulder (just as Mark caught me again, if I recall correctly) to give that lot a couple of minutes to start sinking in. However, with Stephen and Robert quickly arriving and Robert basically telling me to get up and get down to Bridge of Orchy (closer than I'd perhaps realised at just a mile or two) where he'd alert Angus and Jon, I didn't hang about long and amazingly still recorded a pretty respectable split into the checkpoint (59.5 miles achieved in 12:48).
So this was pretty well crunch time (you can't expect to run 95 miles without hurting somewhere, I'd be surprised if anyone escaped with no bad patches, and this was mine) and we settled down for a serious timeout. Where a whole 41 minutes disappeared I'm not too sure, but I seem to have slept a little, I know Angus worked some minor miracle in freshening up my tiring leg muscles and the crisps were good. (When we were out topping up our supplies on Friday evening before picking up Jon, we specifically went after the crisps with the highest — instead of lowest — salt content we could find and the resulting multipack of McCoys proved to be a good buy!) With Jon now joining me for all or most of the remaining miles and my biggest break having restored me to something more like the supposedly strong hill runner of my race plan, we set off for a further rendezvous with Angus at Victoria Bridge.
Rannoch Moor passed by as well as could be expected, and we spent much time playing the invisible elastic game (see Phil Tipping above) with Ian Rae and his support runner. But I was starting to experience some lateral left knee pain (alleviated, along with further patella problems, by stopping to put on a precautionary strap) and my quads (despite being stronger than ever before after all that hill training) were finally starting to tire. After dawdling up the last hill before the descent to Glen Coe and berating myself for letting my heart rate sink into the 80s, we'd just started to run down the other side when Flora Williams and Noel Williams (both good friends and colleagues of many years' standing, but not related despite their names) appeared with camera, croissants and other goodies. So we stopped to chat briefly before settling into the run to hit Kingshouse in better style with 72 miles down and 16:24 elapsed.
20 minutes later (had no idea it was that long, but have been told I was dozing!) we were on the way to Altnafeadh (chilly wind kept out by my new Montane Featherlite Pertex Smock, with Eppie, Eileen, Donald and Jo there to add psychological warmth), and set off up the Devil's Staircase (where I'd normally run the easy bottom bit) at a stiff walk to give me the chance to eat some more. (On the 19 May group run, Joe Sheridan and I made the top in under 17 minutes, but this must have been about 50% slower than that!) So to the long descent into Kinlochleven, which many competitors seem to hate/fear but I adore, and we were shifting now. Down into Kinloch, where I almost led a couple of competitors astray up what's normally the correct route over the Black Pool bridge (quote 'I know, I live here'!), but we'd been diverted along the lab road and the signs weren't exactly huge...
On to my 'home' checkpoint (80.5 miles in 18:42), handshakes with a smiling Chris Ellis, Headdens and staff, Eppie and co popping up again and the surreal experience of sitting on my folding chair on the main road through the village eating custard while the Robertsons watched from their nearby window! 19 minutes later (so, sure, we keep taking off my shoes and socks, but where's all this time going?) we're up again for a non-stop bash to the Fort and from here on in (no chance for anyone else to sneak through while I'm stopped!) I'm picking up places all the way and giving none back. So here's Noel again with his camera on the climb above the school (my main place of work) and then as quickly as reasonable we're up into the Lairig Mor (if I can run it four times in a day I can run it once!) and making good time.
Here's Niall MacBeath out to meet us through what used to be the Lundavra Forest and suddenly we're on the final leg. At long, long last we overhaul a struggling John Kynaston (sadly targeted months ago after getting to know him through his blog) and the poor man has to put up with a spontaneous, but wild, war whoop not directed at any of my other 'victims' before I realise that he's nursing a new injury and start to feel a little guilty about that. But I'm hurting too now, my brain's been screaming 'stop' for more miles than I can remember (so why can't it just be over?), and on we press. Torch on for the few darkest moments of the woods, that spidery star of stump and roots on the path marking the start of the last hill before the Vitrified Fort and then (unspeakable relief!) we're descending into Glen Nevis. Still some runners coming back to us (to be honest, we're not really flying, but it's more running than jogging and it feels like flying), with Mark Collins the last one on the corner below Braveheart, Angus out to join in the fun, enough of a gap opening up to stop and throw on my LAC vest over the Pertex top, into the Fort, lots of applause, Noel, Eppie, Eileen, Donald, Jo and a gratifying number of clubmates out to see me home and (not before time!) it's all over in 22 hours, 15 minutes and 50 seconds for 20th place. Adrian Davis has been in for over five hours, Lucy Colquhoun (surely the performance of the race) has covered the ground nearly as quickly to break Kate's ladies' record with 17:16:20 and the last few finishers have nearer 11 than 10 hours still to go, but most of that is stuff I'm going to discover at the prizegiving tomorrow. Likewise, my LAC clubmates George and Stephen have finished 7th and 14th respectively, previous training partners Joe Sheridan (9th), Ian Beattie (11th) and Hugh Kerr (16th) have all made the top 20 (@Hugh, our paths must have crossed a few times but I was never aware of it and I'd have 'tried harder' if I'd realised you were going to beat me by 9 minutes!), with Mark Collins (21st) and John Kynaston (25th) also making the top 25. But we've all just run 95 miles, and that's probably all most of us can think about right now (if we can still think at all, still less comprehend what it means) and all that really matters tonight.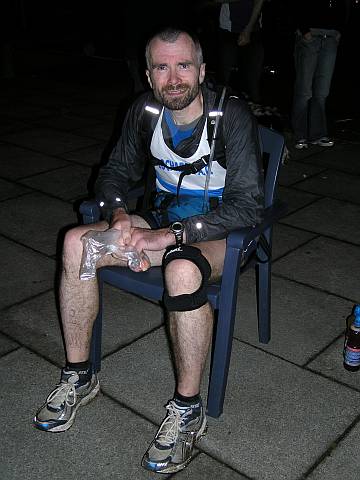 Angus's Story
As I write this, I'm sitting in the airport lounge at Glasgow, waiting to fly down to Cambridge (by the time this is sent, I'll be at work in Cambridge). Peter is probably having a well-deserved sleep at home in Kinlochleven. The big race is over, and it was quite an experience for all involved.
The weather beforehand had been threatening; there were warnings of possible thunderstorms and severe rain and flooding. We did have some concerns that the race might be stopped if the weather was as forecast (in 2005 they had to stop the race after 18 [28?] hours because of heavy rain flooding stream crossings). The organisers were a bit more optimistic, saying that the forecast rain was earlier for parts of the course more able to absorb rain.
Peter didn't manage to sleep in the car on the way to the start, he was too keyed up, talking over the race plan again and again with our support runner John [Jon Gay]. We stopped at my parents for dinner, then at a friend of Peter's [Nigel Orr] near the start line for him to change and while away a couple of hours.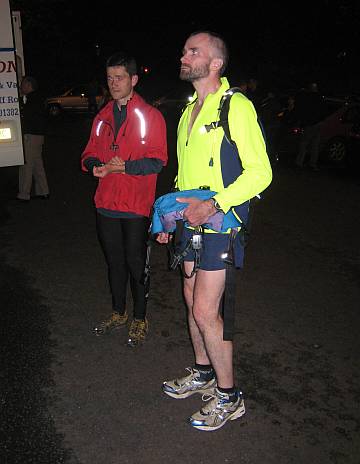 The race started promptly at 1:00am, with the runners disappearing through an underpass beside Milngavie railway station. I heard starting numbers of 105 and 110 mentioned. There was then a mad scramble for the support vehicles to get out of the car park and away. I had driven the route on my way to pick Peter and John on Thursday, so I didn't have navigational problems. However, by the time I had taken Peter's friend Nigel back to his house, and driven up to our first checkpoint (7.5 miles along the route, 14 miles drive), the head-torches of the first runners were visible, bobbing along the route. I was very glad we'd stopped to buy a couple of midge nets in Fort William, the little bugs were out in force, eating everyone alive.
Peter came through the first check point 10 minutes faster than we had guessed, but he was running using a heart rate monitor, and was not over exerting himself, so we weren't worried. At this point he was quite well down the field, again this was all according to the race plan.
I had written a little spreadsheet to be able to continuously re-estimate arrival times at the checkpoints, so we go moving to the next point at Drymen at 12.5 miles, and had a few minutes for some coffee before preparing to meet Peter. He was running easily again, unlike some of the runners who were showing effort already. He put in his food requests for Balmaha, and ran through.
We'd had a few spots of drizzle since the start, but between Drymen and the Balmaha checkpoint at 19.5 miles the rain started coming down heavily. I knew Peter would need a change of shoes and clothes, so pulled them out ready, and prepared the folding chair and a jam scone. The famous midges at Balmaha weren't quite as bad as I'd been led to believe, I'm not saying I didn't use the midge-net though.
Peter's race plan had a very conservative start, running with the heart rate monitor for pace, and expecting four hours to Balmaha. He was in with 3:56 elapsed, and left with fresh clothes and some food in him at 4:08. We then headed up the east side of Loch Lomond to the end of the car road at Rowardennan.
John and I had time for a very short nap and got the porridge made before Peter came in. We managed to get a decent amount of calories into Peter during the first half of the race, we were aiming for 100 calories per mile, but knew all along that would be a hard amount to force down. He was still running on the heart rate monitor, and was looking strong. At this stage, with 27 miles down, he was 75th [apparently 45th equal at Rowardennan, but certainly further down at Balmaha], but the plan was to keep a constant pace, which would take him past a lot of people in the rest of the distance. I had the thought at this point "one marathon completed, only two and a half to go", but kept it to myself :-)
The next checkpoint at Inversnaid (34.5 miles) is not possible for the support crews to get to and away from in time, so we had left a drop-bag with the organisers, and John and I drove all the way round Loch Lomond to meet Peter at Beinglas Farm (41 miles). This was the longest driving leg, and the longest time we'd be out of contact with Peter. I let John sleep a bit on the way, because he'd be running with Peter later in the day. By the time we'd reached Ardlui, a few miles short of Beinglas, I was trashed. I had a can of Red Bull to stay awake on the way (it's vile, yuck), and then stopped for a short rest. We got going again, and arrived with what we thought was plenty of time to prepare. John went up to the trail with a drink and a scone for Peter, and I was getting a cup of coffee, Peter came roaring through, 15 minutes earlier than we'd expected.
Then it was off to Derrydarroch, to try and find a space in the crowded lay-by that serves the checkpoint. The field was starting to spread out now, so I only had to double-park for a few minutes, while John took a supply bag down to the checkpoint. I made it down with a few minutes to spare before having to do my podiatrist act, changing socks and powdering feet. I thought I could see a little bit of effort in Peter's face now, which isn't too surprising, given that he'd run 44 miles. We checked with the marshals, and found he'd pulled up to 24th, overtaking a lot of the field on the way up the Loch.
Auchtertyre (50.5 miles) was a fairly short drive, which was just as well, because road-works and tourists slowed up the traffic. I bought some Irn-Bru to use instead of the rest of the Red Bull in case I got tired, I just couldn't face any more of that stuff. Peter had taken on so much food and water that he didn't want anything, so we weren't concerned at this point, and he ran through, preparing for a stop at Tyndrum another 2 miles on.
I must have been a bit tired at this point, I mis-interpreted my spreadsheet and thought I'd sent Peter off on a 6.5 mile leg by telling him it was only 2 miles, but worked out the error before I tried to find somewhere to intercept him along the way. There was a little bit of rain before Tyndrum (52.5 miles), and when Peter came in he didn't want to eat again. I did the foot doctor thing again, and pushed him back on the trail a bit too quickly. He was starting to look stiff going up the hill out of Tyndrum, but I was looking at his schedule, and trying to keep the stops to the minimum to keep him going at the same rate. At this point, he'd been pacing well for about 20h 30m, which was at the fast end of our projections, and I wanted him to do well.
The Bridge of Orchy checkpoint was another 7 miles on, at 59.5 miles. I got a little warning before Peter came in that all wasn't quite well when the support crew [Robert Cant] for another runner [Stephen Cant] in his club told me their runner had seen [they both had] Peter sitting down, not feeling too good. He came in on schedule, and in 21st place, but was obviously suffering. We sat him down for a longer rest, and tried to get him to take on calories, but he really didn't look too good. He had been drinking water and Lucozade, but hadn't been absorbing it properly. I was concerned that he might him, and that he might have to pull out [no way!], and he was starting to doze in his chair when he sat down. After a 40 minute rest, he managed to eat a few crisps, and slowly finished the bag. When he unprompted asked for another bag of crisps, and wolfed it down, I knew that he'd just turned a corner, and would go on regardless. The salt restored some of his electrolyte balance, making water easier to absorb. It was obvious at this time that the 20:30 time was unlikely, so we reset the goal on finishing, preferably within 24 [never longer than 23!] hours.
The weather was a bit better at this point. It was threatening, but didn't actually rain, which was a relief. The east coast of Scotland apparently got hammered, with torrential rain causing landslides and closing roads and railways.
From this point on, we were allowed to send out the support runner, so John went out with Peter over to Victoria Bridge (62.5 miles), where we'd arranged a change of shoes before heading out over Rannoch Moor. I fought through the double-parked cars, driving with a wheel in a ditch along the single-track road to get there first. When Peter and John got down to the bridge, he was looking much better again, and the pace was very reasonable. John was commenting on how strong Peter seemed again. Another session as podiatrist, and they were ready to head out the 9.5 miles over to King's House at the entrance to Glencoe.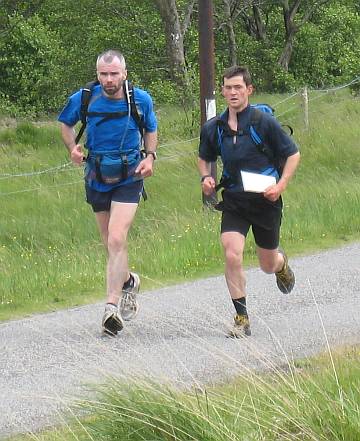 After fighting the traffic back through Bridge of Orchy and heading up to King's House (72 miles), I got a few more minutes of sleep, only to be woken by a friend of Peter's [Noel Williams] calling to ask where he was. Noel was at Black Rock cottage, between Victoria Bridge and King's House, so I told him Peter would be by him at any minute. Noel set off up the track to meet Peter, but I didn't hear from Noel again, so was left wondering if they were struggling. When Peter and John got into King's House, he had put on a knee support, but there wasn't any serious problem. There was a cold wind blowing, so we sat him down and tried to stay warm for a 20 minute rest as he took on a bit more food. At this point, Peter was about in 30th position, having lost quite a few places because of the long stop at Bridge of Orchy.
When they started out from King's House, I went along to Altnafeadh (74.5 miles), to meet my Aunt Eppie, cousins Eileen and Donald, and Donald's girlfriend Jo, who had come out to cheer. I left a small goody bag with them, and drove on to refuel and prepare hot food in Peter's house at Kinlochleven (80.5 miles), the next official checkpoint. Donald phoned me to say they'd passed through in good time, and Peter had taken off up the Devil's Staircase at quite a lick.
The home ground advantage seemed to be working now, he runs the section from Altnafeadh through to Kinloch, and the next section over towards Fort William all the time. By the time I had got to Kinlochleven, and unloaded some of the dirty discarded clothes and shoes, I was in a rush to prepare a choice of coffee, hot chocolate and hot soup, and update the expected schedule. Eppie, Eileen, Donald and Jo turned up and helped prepare the hot food. When Peter came in, he was looking good, waving to people in the village that he knows, and running easily. John reported having to try hard to keep up. More podiatry, some hot chocolate, crisps and a scone, and Peter left at a good pace, on target for the middle of our projected range of finishing times.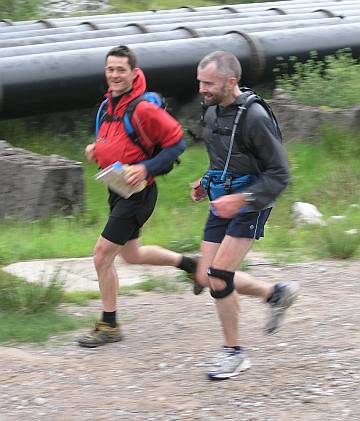 The next checkpoint at Lundavra (88 miles) is up a single-track road, with no parking available near the checkpoint. The closest I could get was about half a mile away, so I carefully prepared a box with all of the stuff I thought they might need, and lugged it up the hill to the checkpoint. Neil [Niall MacBeath], one of the organisers [Chairman] of Lochaber Athletic Club, phoned me to ask about progress, he was running out to meet the club runners. I pointed him in the right direction, and he shortly came racing in to the checkpoint 15 minutes before I expected them, saying Peter and John were only a couple of minutes up the track, they wanted Lucozade, the head-torch, and the club running shirt, and would be running straight on through. Fortunately I had all of this stuff in the box, I couldn't have got to the car and back in time to get them.
The home ground effect was really showing now, they had just passed another group and didn't want to lose any places by stopping. Neil said Peter was running strongly, and ran out with them on the final leg to Fort William.
At Fort William, I walked up to the Braveheart car park (named from the film, I think it was built for some of the location shooting) to meet them. They were a little slower than my most optimistic projections when they arrived, and again didn't want to stop. I ran into the Fort with them, despite not being equipped properly for it (I had normal walking shoes and jeans on :-). Peter later said he'd been worried about whether I could keep up. As we came out of Braveheart, we passed another group of runners, who just couldn't respond. We ran on fast enough to get a decent lead, stopped for a minute to put the club shirt on, and ran in to the finish at the leisure centre (95 miles). I didn't manage to get around quickly enough to get a photo of Peter finishing, I'm not sure if any of the other reception committee (including Eppie, Eileen, Donald, and Jo, who came to see the finish) got a picture. Noel turned up a couple of minutes late, having underestimated the speed that Peter set over the final legs, and so missed his photo opportunity.
The final time was 22 hours, 15 minutes, and 50 seconds, giving him a same-day finish, and a very satisfying 20th place out of the 76 that managed to finish in time. Peter's initial projections for a good time were for 22 hours, so he was right on the money about his pacing and race plan. A few changes in the rest and food schedule and ironing out some minor kinks in the support would have helped, but it was a great run and a good result. John had a fine support run of 35 miles, and was a great help during the earlier support phases too.
I drove over 700 miles going up to collect Peter and John, taking them to the start, following the route, and driving back again. It was easier than running 95 miles, though. At least I got about 2 hours of sleep in 40, he got none.
The results, and loads of other stuff about the race, are posted here:
http://www.westhighlandwayrace.org/
True Team Efforts, Shared Experiences and Thanks where Thanks are not Enough
As any runner who's done this race can tell you, a successful outcome depends as much on the support crew as the runner, it's a true team effort and without them you're nothing! So perhaps I've no more conception of the intensity of their race experience than they have of mine, but I'm guessing that it was absolutely all 'go', especially for Angus, who probably had no more 'spare' time than I did after driving all those miles in addition to working through that increasing succession of lengthening stops attending to my needs. As for Jon, what can I say about someone who can not only run alongside me for 35 miles without stopping to think about it (albeit at an 'easy' pace after the previous 60 had somewhat dulled my performance) but would probably have been quite disappointed had I not wanted him to do so? Since there's nothing meaningful I can say except to thank them both (which I've already done), and no thanks can possibly be enough, let's just leave things by defining my role as one member of a successful trio.
So this race is a true team effort in the competitive sense, but it's also a staggering shared experience for absolutely everyone involved, and that's not something any of us are likely to forget easily. From Dario and his team (without who our efforts would all also be for nothing) to those who turned up to cheer their runners home, I'm sure you'll know what I mean if you were there...
Food, Drink and Running Kit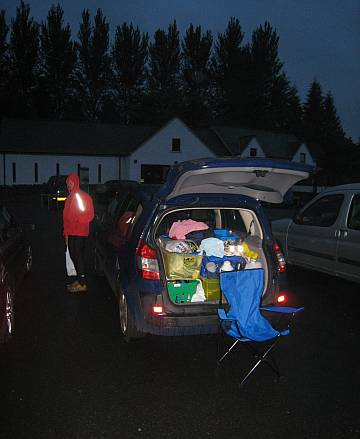 Since we took a car load of stuff I'm not going to list it all, but my run was sustained largely by (in no particular order) jelly babies; assorted cereal bars, one Snickers and one Mars; crisps and salted peanuts; scones, rolls and bagels spread with various combinations of peanut butter, cream cheese, jam and bananas; porridge; apricots; custard; one brownie bite (quite the hardest thing to get down as it simply spread out to line my mouth with cloying goo); Flora's croissant; some coffee and hot chocolate, plenty of water and, above all, a significant quantity of Lucozade Sport (note that you retain fluid better from isotonic drinks, which also fuel the legs so much better than just plain water for the longer run). What Angus and Jon ate I'm not absolutely sure, but I'm guessing it's more of the same, on which note it's not surprising I felt stuffed from time to time after being force-fed that lot! ;-)
As for running kit, we took four or five of most things but I actually used two pairs of shorts; three pairs of shoes (Asics GT-2120s and 2110s); four pairs of socks (could have used twice that, but finished with one older spare); two T-shirts, one long-sleeved half-zip (worn from Milngavie to Balmaha) and the Lochaber Athletic Club vest; the Montane Pertex top and a Berghaus neck gaiter worn as a hat. A lightweight nylon jacket (which I should have ditched after taking on the Pertex top at Kingshouse) and overtrousers remained packed in my sack along with some gloves, and my first (unused) hat was removed from my bumbag after becoming soaked through early on.
A Quick Note about the Lochaber Results
While I've jokingly alluded above to George and Stephen 'stealing my thunder', it's only fair to point out that our relative times are absolutely in keeping with the formbook. So perhaps I'd harboured some notions of beating Stephen (yes, I'll admit to that, especially after my brief period ahead of him after Tyndrum!), but it's worth noting that what the three of us achieved basically bears out what Noakes (in Scotching my theory that you don't need to be fast for this) says:
The truth is that if you are unable to beat these runners at 1 mile or 10,000 m, you will also never beat them at any other distance, even up to 700 km.
So, to George Cairns for running 20:08:50, Stephen Cant for 21:51:45 and possibly even Peter Duggan for 22:15:50, I say well done for achieving what we expected of you! ;-)
Trashing the Body, Recovering Again, Messing with the Mind and Thoughts for the Future
So I ran 50+ miles with blistered soles, a good deal further with some nasty chafing I'm not discussing further here, and my quads finally took such a beating that I could barely sit down or stand up unaided, but I survived Sunday's prizegiving (where Dario called me up to receive my finishers' goblet with a memorable remark about my medical records being ready at the Kinlochleven checkpoint if required), drove to work at Duror and North Ballachulish on Monday and find myself feeling almost human again as I write these final paragraphs just a week after the start of the big race. The whole thing's been an almost overwhelming experience, with the 'almost' possibly becoming superfluous on Thursday 28 June after school broke up for the summer and I finally found myself at home with the time and space to contemplate the enormity of it all. As I wrote to Dario that day, 'it messes with your head as well as your body', and perhaps nothing will ever be quite the same (in the best possible sense) again.
To those who need an answer to the burning question (?), I can only quote my response of 26 June to the announcement of next year's date in the Race Forum:
Well, I'm neither going to be entering next year nor saying 'never again'! Which, translated into plain English, means:
I must get the boat in the water for 2008 (kept ashore intentionally for last year's summer in Seattle but, because of the sheer commitment required to train properly for the race, no longer going to be fitted out and launched for 2007 either).
Expect to see me competing again sometime (but not every year or two).
Don't be surprised to see me supporting someone else if that's how things shape up.
Rest assured I'm bound to take a continued interest when it's such an overwhelming experience, there's such a feeling of belonging and the race comes almost past my front door late on!
To which I can only add that, while perhaps I can still knock up to a couple of hours off my time and perhaps I can't, I feel no pressing need to prove things either way after what I've already done. When I race yachts, I race to win or place and am generally disappointed when I don't. But when I run, I simply want to do my best because I'm not good enough to win or place (didn't Dario introduce the prizegiving with something about a room/hall full of winners?) and that's actually quite a refreshing 'limitation' in a competitive environment. So, despite a staggering 10% of my time in this race consisting of stops (must have needed them if I took them!), despite leaving Rannoch Moor at a pace that wouldn't have seen Aesop's tortoise beat that sleepy hare (at least I continued to fight the 'stop' signals from my brain!) and despite the undoubted mistakes made, lessons learned and experience banked for the future during what was also my first ultramarathon race, I can truthfully say that I did my best and am both thrilled and relieved with the result of that effort.
Footnote (June 2010)
Ran the race again on 19 June 2010, targeting a sub-20 finish but eventually taking 1hr 26mins off my 2007 time to record 20:49:32 for 19th place in hot and windy conditions. See blog report and maybe expect another attempt at the 'magic' time despite anything said pre-race to the contrary!
Feedback to webmaster@petestack.com