Cumbraes Weekend 2002
(Copied from Flypaper, 27 August 2002)
Some kind of a jinx seemed to be affecting Fly's first trip to the Clyde as last weekend's epic trip to the Mull of Kintyre and back was followed by the swift demise of the impeller from our *new* Yanmar's water pump just when we thought we were leaving Tarbert at about 8.00pm on Friday evening. An hour and several hopeful phone calls later we finally left under sail, reaching Largs at 5.20am Saturday morning after a beautiful moonlit run framed between two patches of blanket calm!
A thoroughly enjoyable weekend's racing followed for our largely very tired crew (so Steven arrived on Saturday and Al slept through most of the night sail!), with the wall-to-wall sunshine appreciated as much as the gentle (but sometimes too fickle) breezes.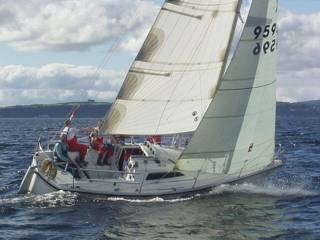 Saturday's first windward-leeward oddly provided us with our best result despite being possibly our 'worst' race of the weekend. Although we lost some of the faster boats in our broad-banded handicap class and suffered the indignity of being stuffed by fellow Impala Orrkid, we finished ahead of both S&S 34 Ailish and obvious Impala rival Scoundrel amongst others for a 7th place. Despite a brighter start to the Olympic triangle that followed, we lost Orrkid on the run after keeping her where we wanted for two beats and the intervening reaching leg, and also had to give best in the end to Mallie and Ufonova as we took the wrong side of the final beat to finish a more disappointing 10th. (Scoundrel never came out to play.)
Sunday's Round Great Cumbrae Race started even better, with a cracking little beat (how to keep out of the bigger boats' dirt?) up the Cumbrae shore and all the similarly handicapped boats bar Ailish under control till we freed off through the Tan. Here we temporarily lost Orrkid (Scoundrel having already given up!) when Guilty sailed over us and took our wind, but we fought back into contention and were still looking good with Troy, Stormaway and others apparently being reeled in halfway up the west side. Everything ultimately went a bit pear-shaped, however, as splits opened up in the dying breeze, the rich got richer and we were pipped at the line by Ufonova, Mallie and Orrkid to finish a truly disappointing 13th (some small consolation coming from beating Mallie on handicap).
Overall, the weekend finished up with Fly placed 10th out of 21. While by no means a disgrace, the Saturday afternoon and Sunday races in particular had seemed to promise better and we can only hope that we did enough to make our mark as a serious challenger among our fellow competitors. At the very least, some more of the Clyde boats should now have had the chance to see what a kite with style looks like! Particular congratulations from our perspective go to Troy for her overall Class 3 win off a handicap well towards our end of the class band, and Orrkid and Ailish for their race wins off identical and similar ratings to us.
Feedback to sailing@petestack.com