Delivery or Deliverance?
'By 4:00 P.M. the wind clearly was easing as the gale swept away from us, and we were left with that half-empty feeling that comes at the end of any great experience, good or bad.'
(John Rousmaniere, Fastnet, Force 10, New York, 1980, 221)
Fly's delivery trip to the Clyde in August 2002 was simple enough in theory. Head south from Oban on a Friday evening, turn left at the Mull of Kintyre and head back north to Helensburgh, where we expected to arrive some 36 hours after setting out. Two weekends, a severe gale and a moonlit drift later we finally rolled into Largs with six hours to spare before our first start of Cumbraes Weekend. So what happened on the way?
For a start, we hadn't quite bargained for a force 9 off the Mull (but neither 'severe gale' nor 'MacBrayne's Cape Horn' were terms coined in jest!). Having monitored the shipping and inshore waters forecasts for a week, we were expecting a bucketful of wind (probably force 7) to blow us up the Clyde on the Saturday and, to be honest, were looking forward to that. But, leaving Oban in a flat calm at 6.00pm on Friday 16 August, we missed the one forecast ('gale 8, severe gale 9 imminent') that could and should have changed everything...
It was the final weekend of my summer holiday, Twig was back at work and Al was back at school. I'd left visitors to see themselves out of the house the following morning and 6.00pm was the earliest we could reasonably be under way. Despite this being several hours later (or earlier) than ideal to catch the tides through Fladda and round the Mull, we'd already agreed that we probably couldn't have adhered to the perfect tidal schedule over a passage of that length anyway, and would have been reluctant to leave much later with the need to be home by Sunday evening in mind. So off we set, under engine, on a beautiful, calm, clear evening, with phrases like 'far too easy' (no kidding!) being bandied about the boat. More adverse tide than we'd expected at Fladda probably cost us half-an-hour or so, but it was otherwise child's play through the dusk and into the night as we headed south. Later (about 1.00am?) we set the No.2 to make some use of the gently materialising breeze, but thought little of the more sinister connotations of when it had started to appear. No mainsail was set because the aesthetics of the delivery trip were relatively unimportant, the engine was still the most efficient way to cover the ground and no-one was exactly going to tip off the sailing style police! By 1.30am we were passing a couple of miles east of Skervuile light, by 4.00am some three miles west of the south end of Gigha and it was still far too easy. Although we'd planned to be sailing four-up in two watches of two, we didn't feel particularly stressed three-up on a 'two on, one off' system, with first Al then Twig turning in for some kip. It was while Twig was down below that we handed the No.2 because the wind had started to freshen from further ahead and we preferred to continue under engine alone than lose ground by turning to leeward. By the time I crawled into my bunk for a break, the Mull of Kintyre light was clearly in view and we fully expected to be rounding it for the Clyde within about three hours.
What seemed like a short time later I awoke to a more lively motion and the first thing I can remember (still one of my abiding memories of the trip) was Al asking for the storm jib. 'Where's the storm jib?', he said, so I dug it out, simultaneously trying to adjust to being awake and take in the implications of the request. 'Where's the storm jib?' Four little words that have since somehow acquired some kind of poetic resonance as they keep turning over in my mind... 'where's the storm jib?'... so what have we got here... 'where's the storm jib?'... one hell of a south-easterly... 'where's the storm jib?'... and quite a sea... 'where's the storm jib?'... far too easy or what? So we set the thing, bashed on south and by 8.30am we'd reached a point about four-and-a-half miles west-south-west of the Mull of Kintyre light, battered by a force 9 south-easterly and trying to make ground to the east under engine and storm jib against a tide that had already turned to be setting us back to the west by a couple of knots. Far too easy or what?
Clearly, our options were limited. To round the Mull, which should have been simple enough had we arrived an hour or two earlier, looked increasingly like a tall order but I still felt it was worth a try. No... let's rephrase that... I still thought we could do it! Perhaps a triple-reefed mainsail might have helped if we'd set it soon enough, but the thought of unrolling the full Pentex racing main to tie in the third reef in those conditions seemed like a very bad idea on both common sense and sail health grounds! To run for Rathlin would have been easy, but landed us far from home with little prospect of shelter in the south-easterly gale and no prospect of racing at Largs the following weekend. Turning back to seek shelter further north was discussed but we weren't quite ready to pack it in, even though making the necessary ground to windward and against the tide under storm jib and engine had started to look like the dream of a hopeless optimist.
So we tacked from a south-westerly to a north-easterly heading because Twig asked me when I thought we could lay the point and I was optimistic enough to answer 'now'. But we were fighting four to five metre waves whose breaking crests were being whipped clean into the air by shrieking gusts to fifty knots or more, and had to shut down the engine for a while (of which more later) because Twig thought it sounded rough and wasn't 'a happy little engine'. So (please excuse all the 'so's!) we couldn't make anywhere near the point and fetched up close inshore about four miles north of the light with some notion of cheating the worst of the south-easterly by creeping along the weather shore. And finally, some two hours north of our southmost point, we decided to pack it in and retrace our path north.
Now this was both soul destroying (because we could have been making the same ground up the Clyde) and exhilarating (because it was!). The possibility of seeking shelter close enough for another attempt at the Mull was considered but quickly dismissed through a lack of faith in suitable places to stop, the prospect of the gale moderating soon enough for our tired threesome to countenance a second night at sea and the increasingly empty state of the diesel tank if the wind did drop. Only a retreat all the way to Crinan and the Canal seemed to offer either reliable shelter or a realistic prospect of racing on the Clyde the following Saturday, so Crinan it was and we shut off the engine again to begin the most fantastic ride north under storm jib alone. To tell you that we were surfing at nine knots under this rag should be enough to illustrate the severity of the conditions, but the Impala proved to be a superb seaboat and rode even the most confused seas in a reassuring manner. While it would be idle to claim that we were never thrown off balance by a wave that didn't quite work out right, I can recall only a couple of minor broaches on the whole trip north. Considering the confused state as well as the height of the sea, with what seemed to be almost as many waves rolling in from the starboard quarter as overtaking us from astern, that strikes me as a more than acceptable performance.
Beyond that there's not much of interest to add except that, as far as we know, every lifeboat in the area was out assisting someone that Saturday (because we heard the calls), the Islay ferries were still running (because we saw them), it was several hours before the wind moderated enough for us to consider setting more sail or feel the need of the engine, and we made Crinan in time to lock into the canal and proceed to Bellanoch Marina for the night. So how far is Crinan from Oban by sea? About 25 miles! And did we really spend 25 hours at sea and log 140 miles just for that? But of course... and, while it would be rash to put to sea in similar conditions purely for the hell of it, I'd have to admit I'd be sorry never to experience the exhilaration that comes with testing yourself and your boat in weather like that again!
Sunday's trip through the Crinan Canal was was uneventful by comparison. Carol met us at Cairnbaan with a fresh drum of diesel, bought us chips for lunch at Ardrishaig and drove us home from Tarbert after a quiet motor down Loch Fyne. And that was that (or so we thought!), with just a short hop to Largs left for the following Friday evening.
Now the last leg to Largs really should have been straightforward, but some kind of a jinx seemed to be affecting Fly's first trip to the Clyde! So just when the team (bolstered by the addition of Sandy) had finished their chips and cast off the warps for an 8.00pm departure, our new Yanmar 1GM10 was effectively rendered useless when the impeller failed and we were left with no means of keeping it cool. An hour and several hopeful phone calls later we finally left the pontoon under sail, which would have been fine (and scored some points with the sailing style police) if there had been any wind, but ghosting out of Tarbert harbour to become totally becalmed on Loch Fyne had never formed part of the master plan.
Discussion with other 1GM10 owners has since convinced us that the impeller, which turned out to be a tiny rubber paddle wheel bonded (or not!) to a metal bush, is the clear Achilles heel of this otherwise superb little engine and that they fail with monotonous regularity. It's apparently even possible to tell from the engine note when they're about to go (as proved by Ian MacLachlan and Rockin' Horse! at Bute Regatta Weekend three weeks later) so, in all probability, the 'unhappy' note that had caused Twig to shut down the engine off the Mull of Kintyre was the first sign of its impending disintegration and not, as we'd thought at the time, the result of too much bouncing about, heeling and sucking air.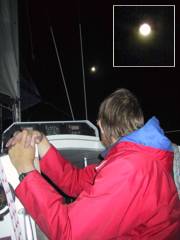 By nightfall we were still drifting down Loch Fyne at a speed that suggested Largs could be days rather than hours away, but the prospect of failing to get there for the first day of Cumbraes weekend after sailing to some kind of hell and back the previous weekend was too awful to contemplate! So Twig stuck the impeller back together with hope and Sikaflex and, while he was cooking it in a pan of boiling water to try and accelerate the curing process, we set the old Hood kite to try and get the boat moving. By 10.30pm we had covered little more than three miles, but enough of a breeze did eventually pick up to start making some more meaningful progress and we spent a beautiful couple of hours (missed by Al, who took to his bunk for most of the night) running down the moonlight on Loch Fyne, Inchmarnock Water and Bute Sound at a more respectable three to four knots.
By 2.00am (when we should have been tucked up in Largs for a couple of hours) we were close to Garroch Head, but the best of the breeze had been and gone. Had we known that the last five miles or so from Little Cumbrae Light to Largs Yacht Haven were still destined to take the best part of three hours, perhaps somebody might have joined Al below, but who could bear to tear themselves away from the moonlit magic at this stage?
The 'home' stretch through the Tan and up the Largs Channel became progressively more and more frustrating as we started to find ourselves set back by adverse tide in virtually calm conditions. Twig's repaired impeller, which had been carefully saved while we had any breeze at all, was finally pressed into service and lasted for less than two minutes! Some spice was added to the proceedings by the arrival of a large ship, which appeared at speed from the south before slowing down to dock at the Hunterston terminal. In the end we blew up the rubber dinghy and towed Fly alongside with the 2hp outboard for the last couple of miles, berthing at Largs Yacht Haven at 5.20am just as the first hints of dawn began to lighten a sky that had never been truly dark all night.
Feedback to sailing@petestack.com